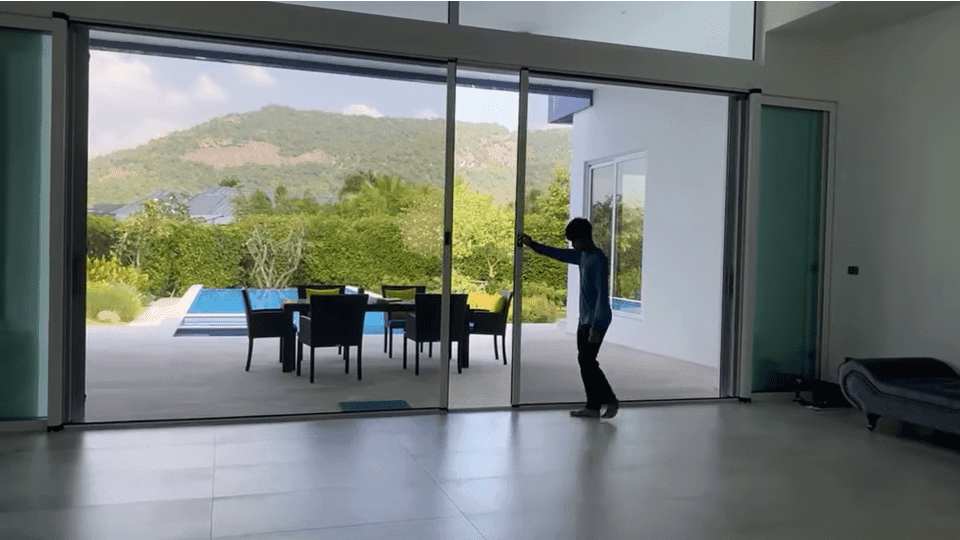 STOP THOSE ANNOYING PESTS FROM ENTERING
PVC Phuket Windows has the latest technology insect screens can be applied to any of our window and door systems. This point should be discussed at the time of enquiry and order. We have various options, some of which are incorporated into the system at the time of manufacture and others which can be retro fitted. The 3 main options are a sliding fixed panel for sliding doors and windows. Secondly a retractable pleated screen type for all types of window and door.
The First type is the sliding fixed panel version, similar in function to what many aluminum systems use in Thailand, although ours is a much higher quality product. Once fitted this will always be in view and slides across a rail to block insects entering through a sliding window or door opening. This system must be agreed upon at the time of enquiry and order as it will be manufactured with your windows and doors. The second type is a retractable pleated screen suitable for both casement and sliding, doors and windows.
This type is more flexible and can be manufactured at the same time or retro fitted at a later date. using retractable pleated mosquito screens, you are able to fully conceal the screen when not in use therefore clearing more space for free view through the glass. And finally the pull down type these are generally used on all casements windows with a narrower opening width typically 50cm to 90cm wide.
In addition to the above, we can also offer a full range of high end retractable screens & outdoor patio screen enclosures. For more information visit our sister site which deals with insect screens in Thailand.
Nothing is worse than trying to enjoy a meal with annoying insects buzzing around. These solutions are great.